Tokuoka Kunio
KYOTO KITCHO Executive Chef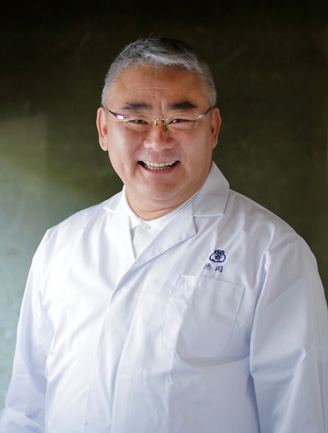 Born in 1960, the grandson of Kitcho founder Yuki Teiichi.
In 1980 he began training in earnest to be a chef, learning the fundamentals of cooking from Teiichi. In 1995 he became executive chef, and in 2009 managing director of KYOTO KITCHO Co., Ltd.
Starting in 2004, he began participating in culinary events overseas.
In 2008 he catered the social dinner for the G8 Summit in Toyako, Hokkaido.
Domestically, he is involved in the search for solutions to various issues relating to regional vitalization and primary industry in Japan, such as agriculture, forestry and fisheries. He is a visiting professor at Tokyo University of Agriculture and honorary director of the Society of Industry, Culture, and Science.
While honoring tradition, Tokuoka Kunio is constantly devising new, multifaceted approaches to food culture and is committed to spreading his knowledge and love of Japanese cuisine through innovative methods and suggestions.
ProfileProfile
2004
Participated in Salone del Gusto, a festival of food organized by Slow Food Association Italy (also 2006)
2005
Participated in "Madrid Fusion"
2007
Participated in THE RISE OF ASIA food conference organized by CIA, California, USA (also 2008)
2008
First Japanese chef to be selected for a James Beard Award (James Beard Foundation)
Executive Chef, G8 Summit Social Dinner, Lake Toya, Hokkaido
2009
Became President and CEO of KYOTO KITCHO Co., Ltd.
Japan Representative at Tokyo Taste World Gastronomy Summit 2009
Joined Kyotango City's board of expert advisors (committee for policy and planning)
Participated in the "Umami Summit in London"
KYOTO KITCHO Arashiyama awarded 3 stars in the Michelin Guide Kyoto Osaka, HANA‐Kitcho awarded 1 star
(both maintained for 12 consecutive years)
2010
Participated in the World of Flavor Conference & Festival organized by CIA, California, USA
Appointed as Yamagata Special Sightseeing Ambassador for Tsuya-hime
2012
KYOTO KITCHO Toyako awarded 2 stars in the Michelin Guide Hokkaido Special Edition (awarded again in 2017)
2013
Participated in the World of Flavor Conference 2013 organized by CIA, California, USA
2015
Participated in Milan, Italy World Expo
Gave a special speech in Italy at the request of the Food and Agriculture Organization of the United Nations
Appointed as Honorary Chairman of the Society of Industry, Culture, and Science
2016
Decorated as an Officier in the Ordre des Coteaux de Champagne at the 7th Investiture Ceremony
Appointed as Associate Professor of Tokyo University of Agriculture
Appointed as International Ambassador for Mie Prefecture Foods
2019
KYOTO KITCHO Nagoya awarded 1 star in the Michelin Guide Aichi Gifu Mie Special Edition
PublicationsPublications
2007
"Haru no shokutaku (Spring Table)", "Natsu no shokutaku (Summer Table)",
"Aki no shokutaku (Autumn Table)", "Fuyu no shokutaku (Winter Table)" - all published by Basilico
2009
"Arashiyama Kitcho: Danshi no daidokoro (Arashiyama Kitcho: A Man's Kitchen)" - Basilico
"Oishii yasai no miwakekata (How to Choose Delicious Vegetables)" - Basilico
* Co-authored with leading sustainable agriculture expert Kazuo Nishimura
2010
"Kitcho: Japan's Ultimate Dining Experience" - Kodansha International
"Beauties of Nature in Cuisine" - Gakuseisha
"Kyoto Kitcho shigoto no saho (Kyoto Kitcho: Work Etiquette)" - PHP Institute, Inc.
"Sake no tsumami (Snacks for Sake)" - Bungeishunju Ltd.
"Bunkoban shiki no shokutaku (A Table for Four Seasons paperback edition)" - Bungeishunju Ltd.
2013
"Walking in the Footsteps of Teiichi Yuki, Founder of Kitcho who Staked his Life on Japanese Cuisine and Tea Ceremony : What the Grandson Kunio Tokuoka Has Learned" - Tankosha Publishing
* Publication titles listed here may differ from official titles.